It is lashing out again today, I need to immigrate !! Funnily enough, I know for sure that last year, at this time, the weather was glorious. I remember being in Wimbledon, on centre court, watching the ladies semi final. ( So if I am accurate, it wasn't exactly last year, it was last year and a week !!) Today, the weather is terrible, it is good thing they have a new roof on center court or not much would have happened again today !!
Anyway, Andrew took a picture of me with his phone while we were there. The picture isn't great quality but it still shows how nice the weather was and the colours just cheer me up. I was waiting for the right moment to scrap this picture and now is perfect ! I wanted a girly girl page, full of flowers and bling to match the dress I was wearing. This dress is not really me and yet, it is my ultimate favorite. I have had it for years and I even wore it for a wedding when I was pregnant. It is one of these feel good outfits, do you also have one ?
Anyway here was the sketch from Design Dollies. I have never entered their challenges so I hope they like me !!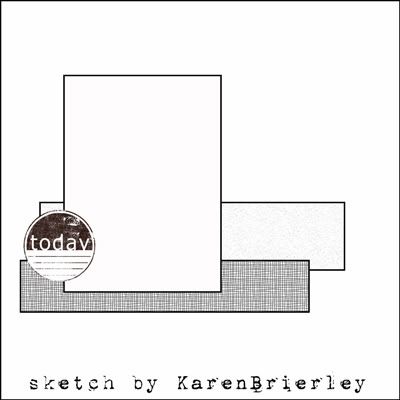 And here is my page ...
And a few close ups...
It is the Apprentice on tonight on Tv, so I shall go and make myself a cup of tea and relax !!
Take care
Anne