I don't often do this but there is a blog candy at Dame de Kit, and l'Encre et l'Image .Their stuff is great. I once had some free pictures in a magasine and they were truly lovely, so for once, I will try my luck !!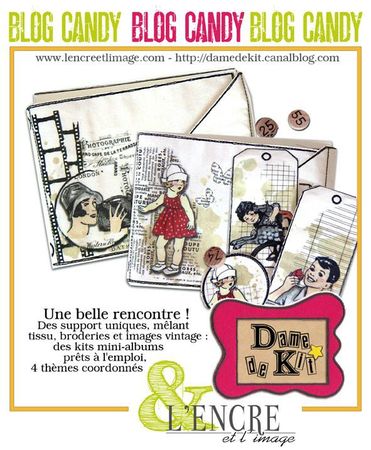 Le principe ? Il est très simple !
Relayez l'info sur votre blog, en y joignant l'image ci-dessus et en donnant le lien vers le blog Dame de Kit :
Puis, postez un commentaire à la suite de cet article.
Parmi les commentaires postés ici, trois personnes gagneront un kit mini-album complet.
Et il y aura autant d'albums à gagner sur le blog de L'Encre et L'image.
De plus, 2 embellissements inédits seront à gagner toutes les 30 participations : à chaque tranche de 30 commentaires, 2 embellissements supplémentaires seront mis en jeu (par tirage au sort également)
Alors plus d'hésitation : tentez votre chance !
Vous avez jusqu'au 9 avril pour participer...
FAITES VIBRER LA BLOGOSPHERE!!!!
Biz Valy
Anne